Posts for tag: diabetes
By Gibberman Dental
November 21, 2019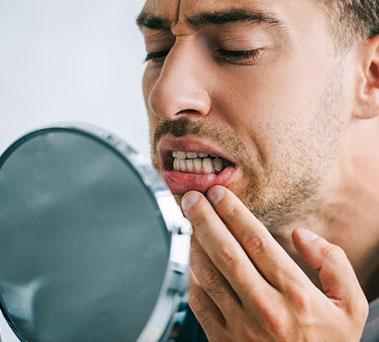 Currently, one-third of Americans are either diabetic or have prediabetic symptoms. Caused by an imbalance in blood sugar levels, diabetes can complicate and increase the risk for other inflammatory conditions like heart disease and that includes another disease typified by inflammation: periodontal (gum) disease.
Each November, dentists join other healthcare professionals in commemorating American Diabetes Month. Besides making people aware of the widespread impact of diabetes, it's also a chance to highlight ways to manage the disease and promote better health for your body overall, including your gums.
If you have diabetes (or your doctor is concerned you may develop it), here's what you should know to keep it from harming your gum health.
Keep your diabetes under control. The adverse effects of diabetes on the body, including the gums, can be minimized through medication, good dietary habits and exercise. Because of its chronic nature, though, managing diabetes should become a permanent part of your daily life. But it's essential to keep symptoms under control to protect your gums from infection.
Practice daily oral hygiene. Gum disease can occur with anyone, not just those with diabetes. A few days without proper oral hygiene to remove bacterial plaque is all it takes to trigger an infection. So be sure you're brushing and flossing each day, as well as having routine professional dental cleanings at least every six months.
See us at the first sign of gum problems. If you notice your gums are reddened, swollen or bleeding after brushing and flossing, see us as soon as possible. If it is gum disease, the sooner we begin treatment, the less likely the infection will cause extensive damage—including tooth loss. It's also possible to have gum disease but not have any symptoms initially. That's why it's important to see us on a regular basis to check your gum health.
Keep your healthcare providers informed. Some studies seem to indicate that if you have both diabetes and gum disease, treating one condition could help improve symptoms with the other. Be sure both the dentist treating your gum disease and the physician managing your diabetes know about the other condition. It may be possible to adjust and coordinate treatment to get the most benefit for both.
Living with diabetes is a challenge, especially if you're also dealing with gum disease. Keeping your diabetes under control and caring for your teeth and gums can help make that challenge easier.
If you would like more information about protecting your dental health while managing diabetes, please contact us or schedule a consultation. To learn more, read the Dear Doctor magazine articles "Diabetes and Periodontal Disease" and "Gum Disease and Systemic Health."
By Gibberman Dental
November 25, 2017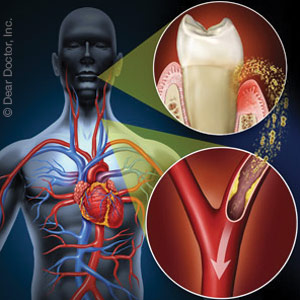 If you have periodontal (gum) disease, you probably already know you're in danger of eventual tooth and bone loss if the infection isn't brought under control. But if you also have diabetes, the effects from gum disease could extend well beyond your mouth.
Gum disease is a bacterial infection caused by plaque, a film of food remnant that builds up on tooth surfaces mainly due to poor oral hygiene. As the infection grows, your body's immune system responds by flooding your gum tissues with antibodies to fight it, resulting in inflammation. As the inflammation persists, though, it damages the gum and underlying bone tissue, which in turn leads to gum and bone loss from the teeth.
Diabetes also causes an inflammatory response within the body. The disease develops either as a result of the body's decreased ability to produce insulin to balance the glucose (sugar) levels in the bloodstream (Type 1) or the body develops a resistance to insulin's effects (Type 2). As a result diabetics experience abnormally high blood glucose levels, a condition called hyperglycemia. This triggers chronic inflammation that can lead to inhibited wound healing, increased risk of heart, kidney or eye disease, coma or death.
Gum disease can worsen diabetic inflammation, and vice versa. The effects of the oral infection add to the body's already overloaded response to diabetes. In turn, the immune system is already compromised due to diabetes, which can then increase the severity of the gum disease.
Research and experience, though, have found that pursuing treatment and disease management for either condition has a positive effect on managing the other. Treating gum disease through plaque removal, antibiotic therapy, surgery (if needed) and renewed oral hygiene will diminish the oral infection and reduce the body's immune response. Caring for diabetes through medication, diet, exercise and lifestyle changes like quitting smoking will in turn contribute to a quicker healing process for infected gum tissues.
Treating gum disease when you have diabetes calls for a coordinated approach on both fronts. By caring for both conditions you'll have a more positive effect on your overall health.
If you would like more information on the relationship between diabetes and gum disease, please contact us to schedule an appointment for a consultation.