Posts for: February, 2020
By Gibberman Dental
February 19, 2020

When you're expecting a new baby, there's a lot to prepare: outfitting the nursery, stocking up on diapers or choosing a pediatrician. It's also not too early to consider how to protect your new child's dental development.
From birth through adolescence, a child's mouth goes through a whirlwind of growth. Hopefully, it all follows a normal track, but detours can arise like tooth decay or bite problems.
Here are 4 things you can do to keep your child's dental development on track.
Start oral hygiene before teeth. Daily oral hygiene is essential toward helping your child avoid tooth decay. And don't wait for teeth to come in—begin wiping their gums with a clean, damp cloth right after nursing. When teeth do appear, switch to brushing with just a smear of toothpaste and then add flossing as more teeth come in.
Begin regular dental visits. The American Dental Association recommends pediatric dental visits around the first birthday. The possibility of tooth decay becomes a concern around this time as the primary teeth are steadily erupting. Starting earlier rather than later may also help your child adjust to the routine of dental visits that they'll most likely carry on as they get older.
Control their sugar consumption. Because sugar is a prime food source for disease-causing bacteria, you should keep your child's sugar consumption as controlled as possible. For example, don't put a baby to bed with a bottle filled with a sugary liquid (including juice and breast milk)—the constant presence of the liquid during nap time encourages bacterial growth and acid production.
Get an orthodontic evaluation. While we often associate orthodontic treatment with the teen years, it may be possible to head off bite problems earlier. So, see an orthodontist for a bite evaluation when your child is around age 6. If there are signs of a developing problem, certain techniques could help stop or slow them from getting worse, helping you avoid extensive and expensive treatment later.
With a newborn coming, you and your family have a lot on your plate. Be sure, though, not to forget making plans for keeping their teeth and gums healthy.
If you would like more information on dental care for your child, please contact us or schedule an appointment for a consultation. You can also learn more about this topic by reading the Dear Doctor magazine article "Age One Dental Visit."
By Gibberman Dental
February 09, 2020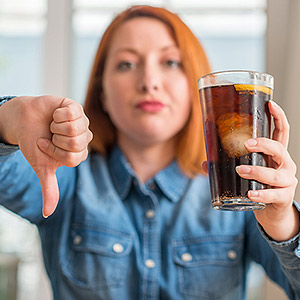 You can find some version of the ever popular kids' meal at most major fast-food restaurants. It's a neat little package: child's size portions of burgers, chicken nuggets or sides—and often a small toy or treat to boot—all tucked into its own colorful cardboard container.
The drive-thru menu board at your favorite fast-food joint gives you plenty of choices to fill out your child's meal. But you may notice something missing on many major chains' kids' menus—the mention of soft drinks as a beverage choice. You can still get one for your child's meal, but the visual cue is no more on the menu board.
None of the "Big Three"—Burger King, McDonald's or Wendy's—post soft drinks as a menu item for their kid's meals. It's the result of an effort by health advocates promoting less soda consumption by children, the leading source of calories in the average child's diet. With its high sugar content, it's believed to be a major factor in the steep rise in child obesity over the last few years.
Sodas and similar beverages are also prime suspects in the prevalence of tooth decay among children. Besides sugar, these beverages are also high in acid, which can erode tooth enamel. These two ingredients combined in soda can drastically increase your child's risk of tooth decay if they have a regular soda habit.
You can minimize this threat to their dental health by reducing their soda consumption. It's important not to create a habit of automatically including sodas with every meal, especially when dining out. Instead, choose other beverages: Water by far is the best choice, followed by regular milk. Chocolate milk and juice are high in sugar, but they're still a healthier choice than sodas due to their nutrient content.
Keeping sodas to a minimum could help benefit your child later in life by reducing their risk for heart disease, diabetes and other major health problems. It will also help them avoid tooth decay and the problems that that could cause for their current and future dental health.
If you would like more information on these and other effective practices for protecting your child against tooth decay, please contact us or schedule an appointment for a consultation.