Are your teeth crooked or crowded? Orthodontic treatment will not only improve the alignment but also the health of your smile. Dr. Paul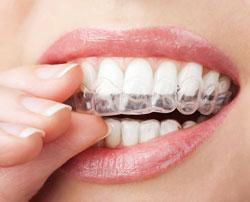 Gibberman, Dr. Lauren Gibberman  and Dr. Maria Hodas practice family dentistry at Gibberman Dental in Alexandria, VA. Learn how orthodontic treatment from their practice could help you.
Crooked Teeth Aren't Just a Cosmetic Issue
 
Crooked teeth can make you reluctant to smile, but they cause issues that are more than cosmetic. Often, misaligned teeth affect your bite--the way your teeth fit together. When your bite is off, you may experience abnormal wear on your teeth, headaches and jaw pain and you may even develop temporomandibular joint disorder (TMJ). A severe bite problem can also affect your speech and ability to speak clearly or cause your teeth to cut the inside of your mouth when you try to chew.
Braces Correct a Variety of Problems in Alexandria
Your dentist may recommend braces if you have:
Crowding: When your mouth is too small to accommodate all of your teeth, they begin to grow in at odd angles.
Over and Underbites: If you have an overbite, your upper teeth protrude too far over your lower teeth. An underbite is the exact opposite problem.
Gaps: Gaps between teeth can make you feel self-conscious, and food tends to get stuck in those spaces. This increases your risk of tooth decay.
Open Bites and Crossbites: If all of your top teeth don't touch your bottom teeth, you have an open bite. Crossbites occur when there are alignment issues with both your top and bottom teeth.
 With all of these issues, braces can be used to gradually shift your teeth into their correct positions.
Metal Braces Aren't the Only Option
Although metal braces are still very popular, they're not the only way to straighten your smile. Ceramic brackets are a little less noticeable than metal ones, and lingual braces are even less obvious because they attach to the backs of your teeth. If you don't like the idea of wires and brackets in your mouth, you'll want to consider Invisalign. The innovative brace system uses clear, removable aligner trays to straighten teeth.
Improve your smile with orthodontic treatment! Call your Alexandria, VA family dentistry experts-- Dr. Paul Gibberman, Dr. Lauren Gibberman and Dr. Maria Hodas--at (703) 823-6616 to schedule an appointment.