Posts for tag: TMD
By Gibberman Dental
November 25, 2015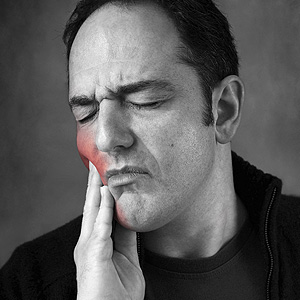 As many as 36 million adults in the U.S. suffer from some form of chronic jaw pain. What's more, many of these may also experience other painful conditions like arthritis or chronic fatigue in other parts of their body.
Chronic jaw pain is actually a group of difficult to define disorders collectively referred to as temporomandibular joint disorders (TMJD or also TMD). TMD not only refers to pain symptoms of the temporomandibular (jaw) joints but also of the jaw muscles and surrounding connective tissue. Most physicians and dentists agree TMD arises from a complex range of conditions involving inheritable factors, gender (many sufferers are women of childbearing age), environment and behavior.
A recent survey of approximately 1,500 TMD patients found that nearly two-thirds of them also suffered from three or more related health problems like fibromyalgia, chronic fatigue syndrome, rheumatoid arthritis, headaches, depression and problems sleeping. The understanding of TMD's connection with these other conditions is in its early stages of research, but there's avid interest among healthcare providers to learn more and possibly devise new treatments for TMD in coordination with these other related conditions.
In the meantime, TMD patients continue to respond best with the traditional approach to treatment, including physical therapy, thermal (hot or cold) compresses to the area of pain, medication and modifying the diet with more easier to chew foods. In extreme cases, jaw surgery may be recommended; however, success with this approach has been mixed, so it's advisable to get a second opinion before choosing to undergo a surgical procedure.
Hopefully, further study about TMD and its connection with other conditions may yield newer treatments to ease the pain and discomfort of all these conditions, including TMD. You can stay up to date on these and other developments for coping with the discomfort of TMD at www.tmj.org and through your healthcare provider team.
If you would like more information on TMD, please contact us or schedule an appointment for a consultation. You can also learn more about this topic by reading the Dear Doctor magazine article "Chronic Jaw Pain and Associated Conditions."
By Gibberman Dental
April 15, 2015
Find out how to handle your TMJ-related symptoms for good.
Are you experiencing any of these symptoms?
A popping or grating sound when opening your jaw
A stiff or sore jaw, particularly in the mornings
Pain when opening your jaw too wide
Morning headaches
Pain or problems chewing
A locking jaw when you opening or close your mouth
If you are, then chances are you may be suffering from TMJ, a temporomandibular joint disorder that affects both the muscles and the joints of the jaw. If you've been diagnosed by your Alexandria, VA family dentist with TMJ, find out the best treatment options you have:
At-Home Care
Over-the-counter pain medications: If you are experiencing some pain or discomfort, your Alexandria, VA dentist recommends taking an OTC pain reliever or anti-inflammatory to help reduce your pesky symptoms. Most patients find the relief they need with these non-prescription medications; however, if your pain does become worse talk to us about a prescription-strength pain medication that could help eliminate your TMJ pain.
Muscle relaxants: Sometimes your family dentist in Alexandria may also prescribe muscle relaxants for a couple of days to a few weeks to help reduce jaw pain.
Icing: Don't ever ignore the power of icing. Just as you would ice sore muscles you can also ice the areas of your jaw that are causing your problems. Icing for no more than 15 to 20 minutes at a time a couple times throughout one day should be enough to alleviate some of the discomfort.
Changing your diet: While no one likes to hear this, sometimes saying goodbye to harder, more difficult foods to chew might just save those aching jaw muscles. Instead, opt for a diet rich in softer foods like yogurt, eggs, and lean proteins. We also recommend avoiding chewing gum, which can stretch and aggravate jaw muscles.
However, there comes a time when your TMJ symptoms are just too uncomfortable and frustrating and you need a little help from your Alexandria family dentist. That's when we will recommend a dental splint, also referred to as a bite guard. This oral appliance goes over your teeth to not only keep them in alignment but to prevent painful tooth grinding while you are asleep. Bite guards are a great way to protect teeth from the wear and tear of TMJ grinding and to keep symptoms at bay.
If you are interested in finding out more about a bite guard to alleviate your TMJ problems, then it's time to schedule an appointment with your Alexandria, VA family dentist, Dr. Paul Gibberman at Gibberman Dental.