Posts for: December, 2017
By Gibberman Dental
December 18, 2017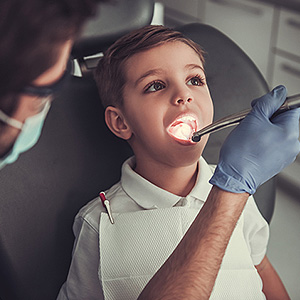 The development of your child's teeth, gums and jaw structure is an amazing process. But while it largely occurs on its own, we can't take it for granted—we'll need to do our part to ensure their mouth stays free from the effects of disease and injury.
That starts first and foremost with early oral hygiene practices. And we do mean early, even before teeth begin to erupt: a simple habit of wiping their gums after feeding with a clean, damp cloth helps reduce the growth of bacteria, the leading cause of dental disease.
Once teeth do appear, you can begin brushing them every day with just a smear of toothpaste. You can increase this to a pea-sized dose around age 2, as well as begin teaching them to brush and later floss for themselves.
Regular dental visits are the next pillar of preventive care. By and large it's best to begin visits around their first birthday. Their primary teeth should be coming in at an even pace by then; and the earlier you begin visits the easier it will be for them to become used to them as a routine part of life.
Dental visits are essential for keeping bacterial plaque under control, as well as monitoring overall dental health. It's also an opportunity to apply other preventive measures such as sealants that discourage tooth decay development on biting surfaces and topical fluoride for strengthening enamel.
Dental visits also provide frequent opportunities to detect bite problems or other situations as they're emerging. Recognizing these early gives us a chance to intervene with less invasive treatments that could prevent or minimize more invasive treatments later.
You also don't want to forget about the other major cause of dental problems—traumatic injuries. You can lessen this risk by limiting your child's exposure to hard, sharp objects like furniture or some toys. And if they become involved with contact sports, it's a good idea to invest in a custom mouthguard to protect their teeth and mouth from blunt force trauma.
As always, we're here to support you and give you advice on other ways to keep your child's dental development on track. Together we'll give your child the best chance possible to enter adulthood with a healthy mouth.
If you would like more information on dental care for your child, please contact us or schedule an appointment for a consultation.
By Gibberman Dental
December 10, 2017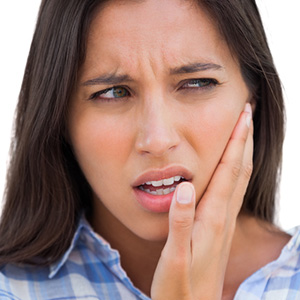 Have you ever felt a hot, burning sensation in your mouth—like it had been scalded—but you didn't eat or drink anything that could have caused it?
While you may think you're hallucinating, there's another possibility: Burning Mouth Syndrome (BMS). This condition, which can last for years, produces sensations in the mouth of not only scalding or burning, but also tingling, numbness and a decline in your ability to taste. Patients may feel it throughout their mouth or only in localized areas like the lips, tongue or inside the cheeks.
The exact cause of BMS is also something of a mystery. It's been theoretically linked to diabetes, vitamin or mineral deficiencies and psychological problems. Because it's most common among women of menopausal age hormonal changes have been proposed as a factor, although hormone replacement therapy often doesn't produce any symptomatic relief for BMS.
To complicate matters, other conditions often share the condition's effects, which need to be ruled out first to arrive at a BMS diagnosis. A feeling of scalding could be the result of mouth dryness, caused by medications or systemic conditions that inhibit saliva flow. Some denture wearers may display some of the symptoms of BMS due to an allergic reaction to denture materials; others may have a similar reaction to the foaming agent sodium lauryl sulfate found in some toothpaste that can irritate the skin inside the mouth.
If these other possibilities can be ruled out, then you may have BMS. While unfortunately there's no cure for the condition, there are ways to lessen its impact. There's even the possibility that it will resolve itself over time.
Until then, keep your mouth moist by drinking lots of water or using saliva-stimulating products, limiting alcohol, caffeinated drinks or spicy foods and refraining from smoking. If you're taking medications that could cause dry mouth, speak with your physician about changing to an alternative. And try to reduce stress in your life through exercise, mindfulness practices or support groups.
While BMS isn't considered harmful to your physical health it can make life less enjoyable. Careful symptom management may help improve your quality of life.
If you would like more information on Burning Mouth Syndrome, please contact us or schedule an appointment for a consultation. You can also learn more about this topic by reading the Dear Doctor magazine article "Burning Mouth Syndrome: A Painful Puzzle."